Welcome!
Combining the robust styling of the best California wines with the restrained classic elegance of wines from northern and central Italy, August Ridge produces distinctive Cal-Ital wines that emphasize the uniqueness of the Paso Robles region.
Tasting Room Hours: Friday 12pm to 5pm, Saturday & Sunday 11am to 5pm
MAY WINE SPECIAL
April showers bring May flowers here at August Ridge! And to spring you into summer we are offering a bouquet of floral wines for this month's special:
Three bottles each of 2009 Nebbiolo and 2010 Primitivo
for $99 Bella Famiglia and $109 non-club
That is a savings of 40%!! Call, stop by the winery, or email me to reserve your May Bouquet!
New at August Ridge!!! With the weather warming up and the vineyards turning green we have decided to take on the new role of party venue! That's right, we will now be offering August Ridge as the perfect place to host a Anniversary, Bridal Shower, Baby Shower, Birthday and SO MUCH MORE! Use the venue and bring your own goodies or hire us to make your day easier. We can make a light lunch for you and of course, pair it with your favorite August Ridge wines. Barrel tasting could be a fun activity too! Call, email Jill or Livi, or come by the winery for pricing information, menu options and available dates. We recommend calling well in advance to ensure your event date is available!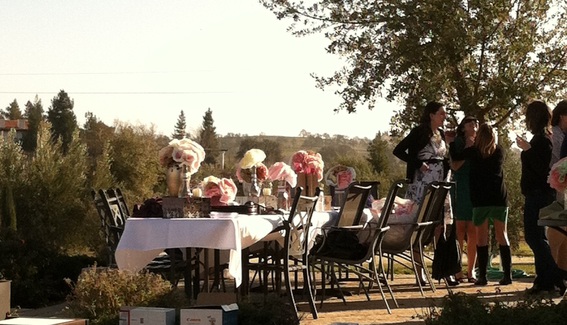 August Ridge Vineyards
8790 E. Highway 41
Creston, CA 93432
(805)239-2455